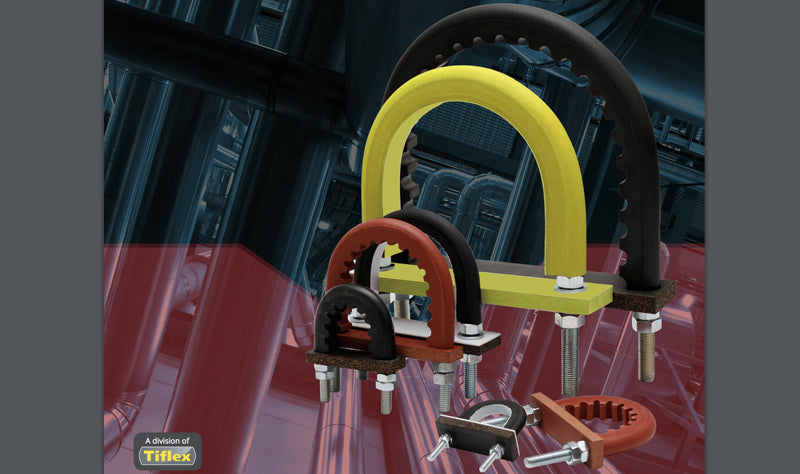 TICO Pipe Supports - Grip Vs Guide
Pipelines are subject to vibrations caused by movement of the pipes contents and additionally from the connecting machinery such as pumps.  Whilst these vibrations are common, they can eventually lead to a failure of the pipe or another integral part of the line such as valves.
TICO encased U-bolts are designed to dampen and isolate the vibrations running through the pipeline solving an existing problem directly or as a safety guard for preventing one.
Machines and pumps that generate force by rotation will often cause steady-state type vibrations that will carry on occurring until the problem is solved because it is the machine itself that is causing the noise during its operation. TICO offer a Grip type U-bolt to counter these vibrations by gripping the pipe in place and absorbing the movement in the pipeline with great success.
Vibrations that exist randomly and infrequently are known as transient vibration and will often be produced by a part of the pipeline that outputs shock waves and larger than normal forces causing potential (and often serious) failures if left untreated.  These transient vibrations are less predictable and may not occur routinely making them harder to fix.  Transient vibrations can be mitigated by using TICO's Guide type U-bolts, these utilise PTFE surfaces to allow for movement within the pipe thus accommodating any unexpected forces.
It is always best to have an engineer check and monitor the vibrations within the pipe line to be sure of which type of vibration is prevalent and apply the appropriate U-bolt to solve the issue.
TICO offer variations of its pipe grip range to suit different pipe materials, environments and commercial project budgets.
TICO pipe grips are supplied in a standard size range (Please see below) however we can also offer bespoke sizes and grade materials.
Key Features and benefits of Pipe Grips:
Fire retardant synthetic rubber molded components which do not support the surface spread of flame.
Easy identification: Black = Stainless Steel, Red = Cu/Ni, Yellow = Very high Temperature (VHT)
Low evolution of toxic gases
Operational temperature range from -50°C to +120°C continuous, 150°C intermittent (Black and red sleeves) and Yellow sleeves from -60°C to +300°C continuous and 350°C intermittent.
High quality Zinc plated, Galvanised and Stainless Steel 316 metal parts as standard, other surface finishes available to customer specification.
Manufactured, as standard, in mild steel BSEN 10025, Grade S275JR or stainless steel grade 316.
A wide range of standard sizes
Accurate threads mean easy fitting
Provides an unrivaled level of cushioning and support
Serrated inner face on 'Grip Type' provides positive pipe retention
Visit our website for more details and datasheets -
anti-vibration.solutions