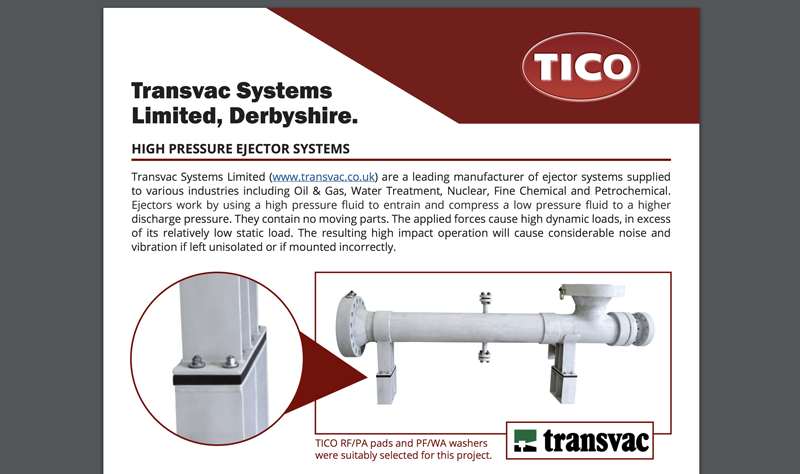 Case Study for TICO RF/PA
High pressure ejector systems 
Transvac Systems Limited (
www.transvac.co.uk
) are a leading manufacturer of ejector systems supplied to various industries including Oil & Gas, Water Treatment, Nuclear, Fine Chemical and Petrochemical. Ejectors work by using a high pressure fluid to entrain and compress a low pressure fluid to a higher  discharge pressure. They contain no moving parts. The applied forces cause high dynamic loads, in excess of its relatively low static load. The resulting high impact operation will cause considerable noise and vibration if left unisolated or if mounted incorrectly.
Background
Transvac approached Tiflex requiring a technical solution for their installations. Almost every ejector installation is unique and therefore the solution needed to isolate them needs to be tailored to suit. Using their years of technical experience, the Tico technical team were able to recommend a tailored solution of suitable materials and installation guidance that meet the requirements of the end user by providing optimum isolation.
Impressive Technical Support
The engineers at Transvac were extremely impressed with the overall service and especially the ongoing technical support provided by the TICO team. They have confirmed that TICO products will be their first port of call for anti-vibration solution requirements for future projects.
The above Ejector is commissioned & operating on an offshore platform, operated by NAM/Shell, in the Southern North Sea. Our TICO RF/PA pads and PF/WA washers were suitably selected for this project due to the high dynamic load produced by the Ejector.